An electronic access system gives you control over who enters your building.
In their simplest form, electronic access control systems consist of an electronic door lock, a reader, and some type of electronic controller. At A. L. Odom Locksmiths, Inc., we strongly recommend every business in the Newport, Tennessee area take advantage of our electronic access services to boost security at their location and control who can gain access to their premises throughout the day and at night.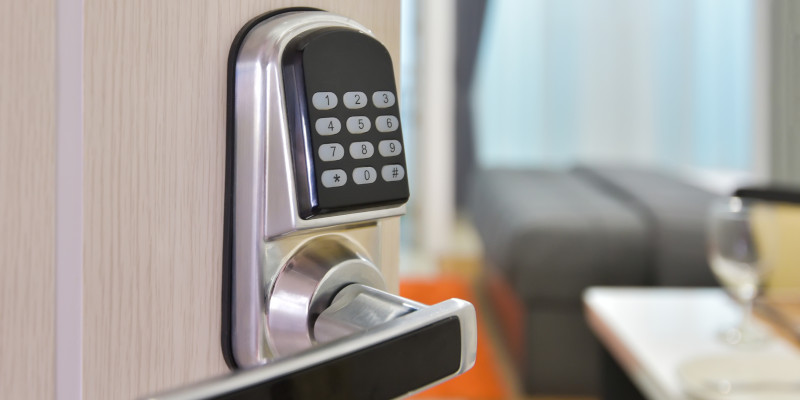 To assess your need for our electronic access services, ask yourself these three questions:
Do you need an audit trail for who has come in and out of a certain door?
Should different employees have varying access privileges based on the time of day?
If someone loses a key or if a key is stolen, does this present a security threat to your facility?
If you answered yes to any of these questions, you should contact us right away about installing an electronic access system at your location. Our experienced, knowledgeable locksmiths can help you uncover which type of electronic access system is best for your facilities. Once you solidify which system you want to invest in, we can help you with the entire setup process, from installing the electronic controller to programming each individual key for your employees.
Gain greater peace of mind and better security knowing that who comes in and out of your building is controlled by you. Schedule installation of an electronic access system at your site today by reaching out to us at A. L. Odom Locksmiths, Inc. We look forward to hearing from you!
---
At A. L. Odom Locksmiths, Inc., we offer electronic access services in Asheville, Hendersonville, Weaverville, Burnsville, Waynesville, Franklin, Greenville, Spartanburg, Fletcher, Arden, Marshall, Spruce Pine, Raleigh, Winston-Salem, and Buncombe County, North Carolina, as well as Newport and Knoxville, Tennessee.