Turn to our team for assistance with electronic keypad locks.
Have you ever had that sinking feeling as you realize that your keys are on the other side of a locked door? If you're tired of keeping track of all your keys on a heavy keyring or making sure your family members or employees all remember where their own keys are, electronic keypad locks may be a great solution for you.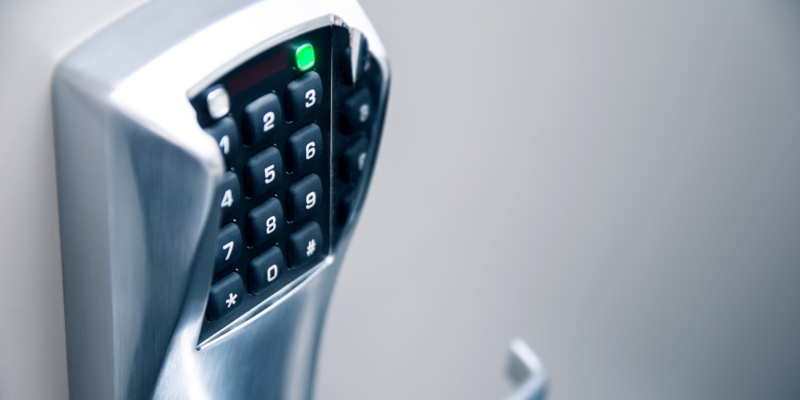 Electronic keypad locks feature a built-in keypad that users operate to enter a code, which triggers the door to unlock. They're easy enough for anyone to use, and you can change the code as often as you need to in order to keep your home or business secure. For example, if you're a business owner and you don't want a former employee to be able to get into your facility after hours, you can change the code to something else after their final work day.
Another benefit of electronic keypad locks is that there are no physical keys required to get into the facility. You won't have to worry about forgetting your house key indoors or having your key fall out of your pocket as you go about your day. Electronic keypads are easy enough for anyone to use, so even your children will be able to enter your home without having to fiddle with a physical key.
If you think that electronic keypad locks might be the perfect security upgrade you've been looking to add to your home or business, our team here at A. L. Odom Locksmiths, Inc. is here to help! We're proud to serve the Asheville, North Carolina area and provide all kinds of locksmith services for this community. Simply reach out to us or visit our storefront today for more information.
---
At A. L. Odom Locksmiths, Inc., we install electronic keypad locks in Asheville, Hendersonville, Weaverville, Burnsville, Waynesville, Franklin, Greenville, Spartanburg, Fletcher, Arden, Marshall, Spruce Pine, Raleigh, Winston-Salem, and Buncombe County, North Carolina, as well as Newport and Knoxville, Tennessee.