We can expertly install panic bars to enhance your building's safety.
Since the 1880s, there have been numerous disasters and accidents caused by doors that either refused to open during emergencies or opened inwards, preventing crowds of people from escaping. For instance, over 600 individuals in Chicago tragically perished when a fire broke out in the Iroquois Theatre and the doors were too difficult to unlatch. In an effort to protect people from "crowd crush" events and ensure that visitors could quickly evacuate buildings when needed, doors were affixed with panic bars, and this practice became commonplace across the country.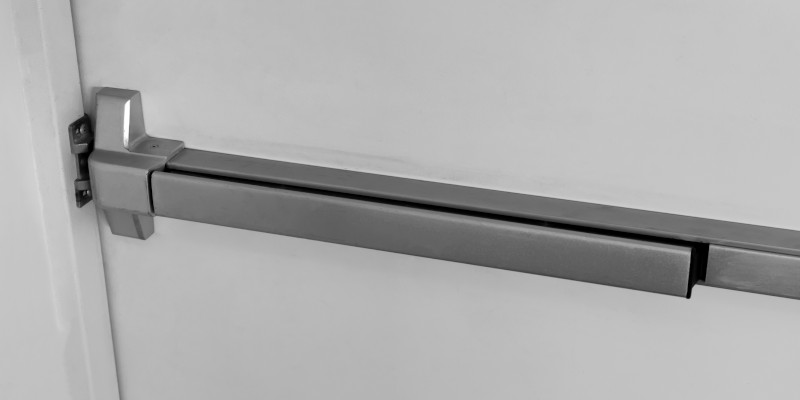 Also called crash bars, panic bars are horizontal push bars that easily unlatch doors when pressed. This type of mechanism is optimal for emergency situations, as someone doesn't need to pull a handle inward, twist a knob, or perform any other potentially time-consuming task. A person simply has to apply pressure to the bar, and the door will swing open, which allows for a swift exit.
In situations such as fires, doors with panic bars can be lifesaving. As people flee to the exit, they won't be trapped behind doors that swing inward, which have been proven to be nearly impossible to open when an area is crowded with panicked individuals. This is why panic bars can be seen in the majority of public buildings, ranging from libraries and movie theaters to government buildings and hospitals.
If you need a safe, reliable, and highly effective door mechanism for your Asheville, North Carolina home or business, contact our team at A. L. Odom Locksmiths, Inc. for more information.
---
At A. L. Odom Locksmiths, Inc., we install panic bars in Asheville, Hendersonville, Weaverville, Burnsville, Waynesville, Franklin, Greenville, Spartanburg, Fletcher, Arden, Marshall, Spruce Pine, Raleigh, Winston-Salem, and Buncombe County, North Carolina, as well as Newport and Knoxville, Tennessee.