Limit access to only who you want with our variety of RemoteLock smart locks.
The ability to lock or unlock your doors from a distance is technology that many of us enjoy. Who hasn't had the time when they were several cars away before realizing they hadn't locked their doors, and then were able to lock them from a distance without walking all the way back to the car? Here at A. L. Odom Locksmiths, Inc., we want to make sure that your locking capabilities are safe, secure and convenient with the right remote locks for your needs in the Asheville, North Carolina area.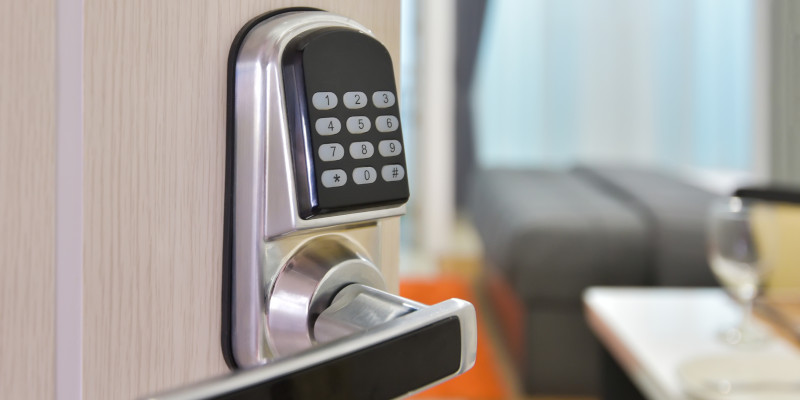 When you have remote locks installed, you can gain access and enjoy an added feature of extra security. Because keys can be copied, altered or duplicated, simply relying on keys doesn't give you the same security advantages as remote locks. At A. L. Odom Locksmiths, Inc., we love using the RemoteLock brand for smart locks because they are not only reliable, but also able to give you the remote locking features you enjoy combined with features you didn't know you needed! RemoteLock is able to assist you with all smart locking needs, including rental properties, home builders, retail and even commercial properties. With smart access from your phone, RemoteLock enables you to control access to your property with the touch of a button from your phone or computer.
If you would like to learn more about RemoteLock systems, the locking features that different locks provide or how the software works, please give us a call here at A. L. Odom Locksmiths, Inc. to learn more.
---
At A. L. Odom Locksmiths, Inc., we install RemoteLock products in Asheville, Hendersonville, Weaverville, Burnsville, Waynesville, Franklin, Greenville, Spartanburg, Fletcher, Arden, Marshall, Spruce Pine, Raleigh, Winston-Salem, and Buncombe County, North Carolina, as well as Newport and Knoxville, Tennessee.