We can increase your security with new keyless door locks.
In a time when technology is quickly changing every part of our lives, it's unsurprising that even the most traditional aspects of security and access control are going through a digital change. A keyless door lock is a game-changer for Asheville, North Carolina business properties, offering many benefits that not only make things safer but also make things run more smoothly. At A. L. Odom Locksmiths, Inc., we can help your company move into the digital age by installing keyless door locks at your business. Continue reading to learn more about the benefits, and then give our team a call.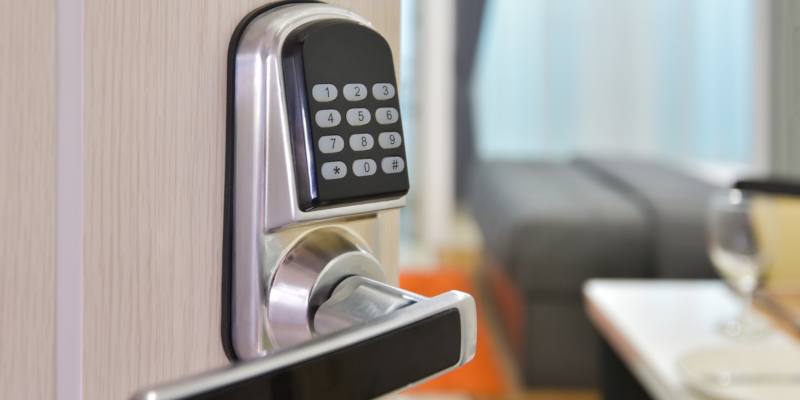 One of the most important benefits of a keyless door lock is that it makes your property safer. Traditional locks and keys can be copied, lost, or stolen. Keyless door locks eliminate these risks by replacing real keys with safe ways to get in, like PIN codes, biometrics, or smartphone apps. This ensures that only approved people can enter the building, providing better security for you and your staff.
Because keyless door locks are digital, it's easy for business owners to reprogram them when employees leave or their access needs change. This level of detail ensures that only people with the proper permissions can enter certain parts of your property, increasing your peace of mind. Our team can help you understand how a keyless door lock works and even give you tips for when the code should be changed.
Additionally, the ease and flexibility of keyless entry systems can't be beat. Employees no longer have to carry around big keychains or worry about losing their keys. They are also convenient for property owners, who might need to remotely let people inside the building.
The keyless door lock is changing how business owners control access by making it easier, safer, and more flexible. As technology improves, these systems will get even more advanced, helping you even more. Contact our team in the Asheville area if you're interested in seeing if keyless door locks are suitable for your space.
---
At A. L. Odom Locksmiths, Inc., we install keyless door locks in Asheville, Hendersonville, Weaverville, Burnsville, Waynesville, Franklin, Greenville, Spartanburg, Fletcher, Arden, Marshall, Spruce Pine, Raleigh, Winston-Salem, and Buncombe County, North Carolina, as well as Newport and Knoxville, Tennessee.