Our electronic access services can increase your level of control and overall security.
If you have a commercial property in Buncombe County, North Carolina, chances are that one of your concerns is controlling access to your facility. If you are ready to experience improved control and security, it may be time to discuss our electronic access services and how we can help give you peace of mind. There are a range of electronic access services available, from a simple system to something much more advanced and refined. A simple system might just include an electronic door lock, a reader and an electronic controller.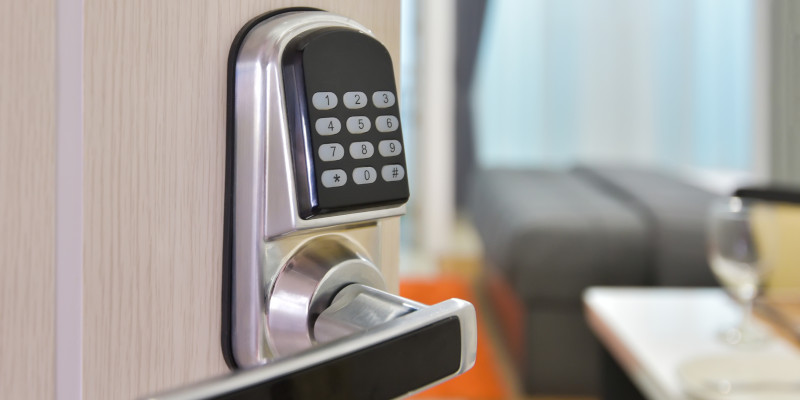 These are some of the reasons you may want to consider electronic access services for your property:
Enhanced protection: It is almost inevitable that someone will lose a key at some point, so why not provide yourself with enhanced protection ahead of time?
Varying access levels: Give different employees different levels of access. You can even choose to allow access at certain times of the day or night, while limiting access at other times.
Creating an audit trail: Keep a record of who accesses a door throughout the day. That way, if there is a problem, you have an electronic trail.
At A. L. Odom Locksmiths, Inc., we have seen plenty of businesses that would benefit from electronic access services. Whether you are looking to boost your overall security or gain greater control over who has access to your property and when they can access it, electronic access gives you superior peace of mind and security. Call today to discuss which type of electronic access best meets your unique needs and budget. We can help with all your setup and programming needs.
---
At A. L. Odom Locksmiths, Inc., we offer electronic access services in Asheville, Hendersonville, Weaverville, Burnsville, Waynesville, Franklin, Greenville, Spartanburg, Fletcher, Arden, Marshall, Spruce Pine, Raleigh, Winston-Salem, and Buncombe County, North Carolina, as well as Newport and Knoxville, Tennessee.