We are a full-service residential locksmith providing in-house services and a physical location you can visit to learn about locks and safes.
There are many situations that call for the services of a residential locksmith. Perhaps you have just purchased a new home in the Waynesville, North Carolina area and you want to change the locks for peace of mind or to get all the doors keyed the same for convenience. Another situation is getting locked out of the house accidentally. Whatever the case might be, the best residential locksmith to call in the area is the professional team here at A. L. Odom Locksmiths, Inc.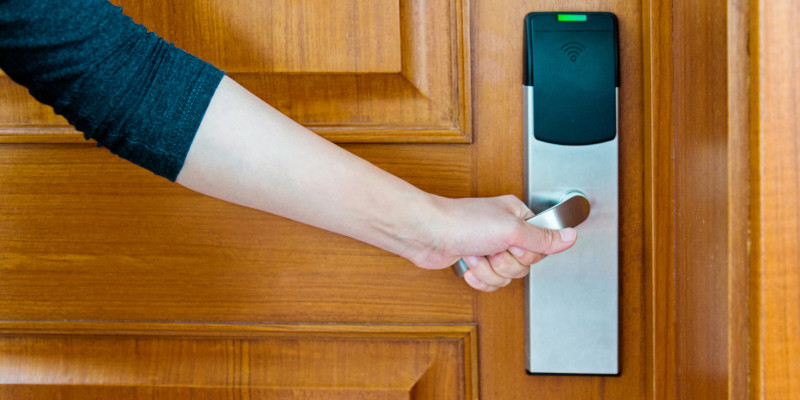 We are the only residential locksmith in the Asheville area that has a brick and mortar location where you can go to learn more about products and services offered by a residential locksmith. We can show you the latest in-home door locks, such the mortise lock system and interchangeable core door locks. We can also discuss added features, such as pick-resistant locks, bar and gate locks, high-security locks, and screen door locks. We also have a variety of safes that are ideal for keeping your valuables and important papers secure.
Let us Handle It! Reach out for Locksmith Services Today
While the majority of our services as a residential locksmith are to assist homeowners in the area, we also provide service for rental properties, such as changing locks after a Marshal Order of Eviction or when a tenant moves out on their own accord. We can also re-key master systems if you have a master that works for a variety of apartments or other rental properties.
If you have an issue at your home, such as a broken key in a lock, a broken lock, or any of the more common situations that require a residential locksmith, call us today for an in-house appointment to give you peace of mind your home or investment property is secure.
---
At A. L. Odom Locksmiths, Inc., our residential locksmiths proudly serve Asheville, Hendersonville, Weaverville, Burnsville, Waynesville, Franklin, Greenville, Spartanburg, Fletcher, Arden, Marshall, Spruce Pine, Raleigh, Winston-Salem, and Buncombe County, North Carolina, as well as Newport and Knoxville, Tennessee.