Our residential locksmiths provide professional service.
There are several different home maintenance professionals you should establish a relationship with. If you do this before you need them, you will have their contact number ready and won't have to spend time researching when an emergency strikes. At A. L. Odom Locksmiths, Inc., we believe a residential locksmith should join the list along with an electrician, plumber, HVAC contractor, roofing professional, and disaster cleanup professional.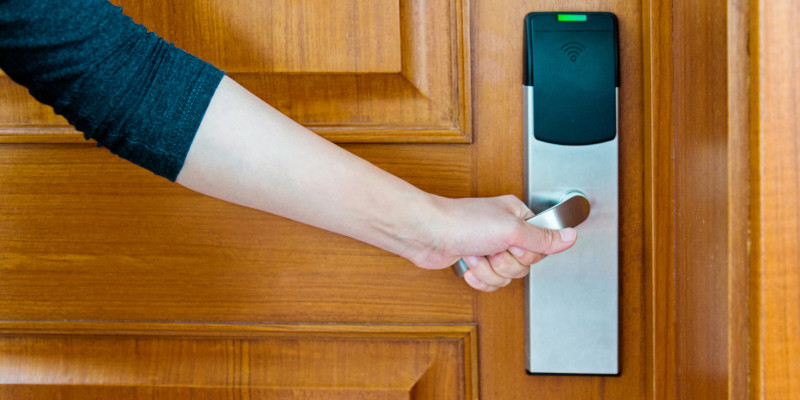 Not only can we be there for you during an emergency situation, such as providing fast lockout service and installing a new lock after an invasion, but we can also help you have the most secure home possible by installing high-security locks. We offer and install a variety of lock products, including keyless deadbolts, entry gate locks, screen door locks, sliding door locks, bar and gate locks, pick-resistant locks, and more.
In addition to installing & repairing locks, re-keying master systems is also on our menu of services, and we can be present during evictions to change the locks on your rental property immediately. The bottom line is that our residential locksmiths serving Franklin, North Carolina provide the most professional service— It doesn't matter what lock problem you have.
If you would like to know more about our residential locksmith services or you need information on safes, commercial locksmith services, or automotive locksmith services, don't hesitate to reach out to us. You can also come to our brick-and-mortar locksmith shop if you'd like to view safes, door hardware and locks, and more. We look forward to assisting you with upgrading your home or business security.
---
At A. L. Odom Locksmiths, Inc., our residential locksmiths proudly serve Asheville, Hendersonville, Weaverville, Burnsville, Waynesville, Franklin, Greenville, Spartanburg, Fletcher, Arden, Marshall, Spruce Pine, Raleigh, Winston-Salem, and Buncombe County, North Carolina, as well as Newport and Knoxville, Tennessee.
Similar Services We Offer: